Europe
Alaia Spring 2023 Read to Wear Collection
Pieter Mulier invited people to the unfinished space that will be the new Alaia store on the Faubourg St. Honoré—an architectural work-in-progress that he saw as the perfect foil for the feeling of his third collection: "something rough and something elegant at the same time."
It crackled with energy; the models collectively channeling a modern vision of the glamazonian power of female physicality that was born in this house in the '80s. As if to emphasize that it's dressing the body he's talking about, Mulier opened with second-skin almost-sheer stretch silk layered bodysuits, the first with a single trompe l'oeil pearl-drop nipple "piercing."
What followed flowed into all kinds of sophisticated twists and turns of draping, wrapping, ruching, and knotting, interspersed with the kind of anatomical knitted body-dresses that are an Alaia wonder. Eyes fell to the footwear: long-haired boots cuffed with huge metallic bangles on cubic lucite heels; black lacquer stiletto heels in the shape of a naked woman's legs. Mulier has an instinct for the extreme accessory which chimes with today's hunger for the surreal.The chunky bangles, his own invention, are bound to trigger bounty-hunters, but the suggestive stilettos were reissued Azzedine originals from 1992. "There are all these backstage photos of Stephanie Seymour and Naomi Campbell wearing them, so we took them out of the archive and remade them."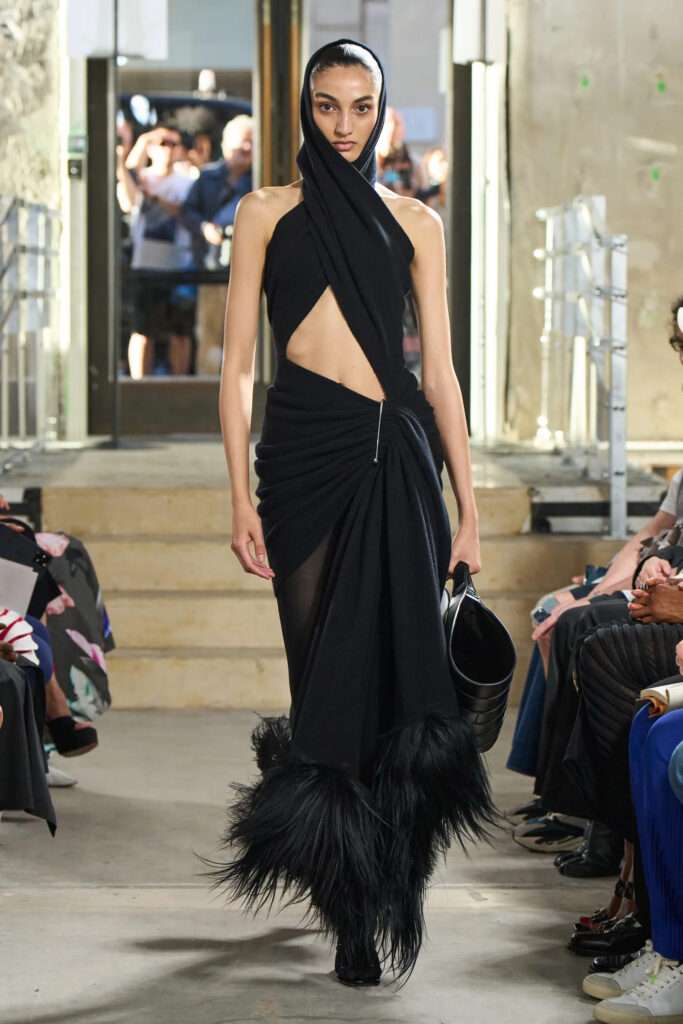 Mulier said he'd never had the chance to explore drape in his former jobs (at Christian Dior and Calvin Klein), but if that was ever an ambition, he's come to the right place. Alaia is staffed with people who have a spectacular and nuanced repertoire of technical skills which enable Mulier to model ideas in 3-D; to make dresses that rely on asymmetry, hip-ruching, suspension, and the North African influences which Alaia used as a source of innovation.
Mulier said he'd been "obsessed with a 1984 show, which not many people know, because Azzedine was basically draping with viscose, and also draping with leather." In emulating the latter—the leather and shearling—he left edges raw and invented a version of perforated black leather—almost like paillettes—to make a rough-edged t-shirt and tiny skirt that Tina Turner would have worked to the max.
The knack of it was to make the complex look almost spontaneous. There were wrap dresses made from single lengths of boiled cashmere. "The idea was that it's like a scarf. It's part of Tunisian traditional dressing—they do it in cotton—and Azzedine was obsessed with it," Mulier related. "So I said, let's make drapes, as simple as possible." But he added, nodding towards his white-coated team. "Very simple, but it's not that simple."
Now that he's got through the first two testing seasons of being the new boy in a house with such a sacred memory, things are flowing nicely for Mulier. There's a sense that he's learning on the job all the time, and finding the creative balance between respecting the brand's codes and his own vision of contemporary relevance. It takes time for people to get to know and understand each other in any house where there's an atelier.
The proof of just how brilliantly things can work when team and creative director get into the realms of technical invention came with the spectacularly erotic triumph of the finale dress. Somehow, it consisted of a black velvet skirt, suspended from a ribbon-belt, the central drape radiating, by some magic, from a line of vertical geometric transparent paillettes. And on the top, a sheer black long sleeve bodysuit.
It looked astonishing enough, walking sinuously towards you, but the real impact of this genius construct was in the back. The draped swoop of the skirt dipped down just a fraction below the line of the bodysuit. Above it was the belt, tied nonchalantly in a bow. Wicked Parisian sophistication of a spectacular modern order.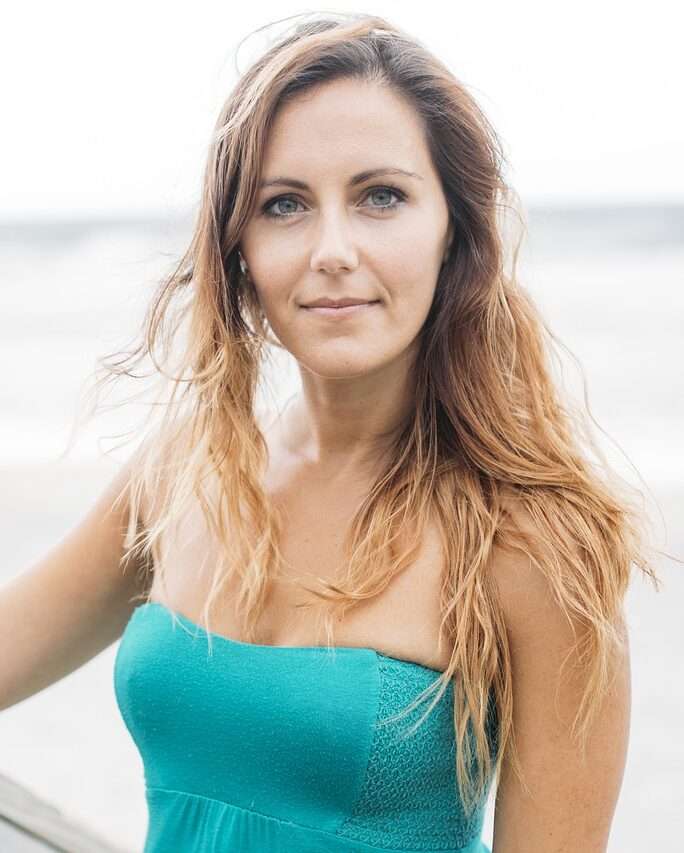 Mrs Vicky m Bournel has made this magazine proud. She is not only an Author from America for Lakkars Magazine she is the Chief Editor of Lakkars Magazine for the articles.