Asian
How Actor Ankitha Muler Built a Career
Ankitha Muler pauses our interview politely, sipping her beverage intermittently, she is one excellent Tollywood young lady actor. Ankitha ponders each of my questions; her responses are considered intelligent and interesting.
When we connect, Actor Ankitha has thought about it in great depth. "I feel moved and chosen," she begins, her voice sweet. "I wasn't expecting it at all or thinking I should even be a candidate. It's a pleasant surprise that people do see my work – or see how I engage with film to be inspiring or sort of a depiction of what film could potentially be like in the future."
She earned her acting stripes when she was in childhood, the girl though too early to start her career as a child artist to the actor has struck an innocent spark in her face. The dusk-eyed brown-haired beauty is very much determined to leave mark on a positive mark in Tollywood.
Thus though approached by a lot of directors and producers, she is patient and choosy about taking on new work. She is focused and determined to climb to the pinnacle of success in due course of time, with the help of her patience, talent and beauty.
She has a beautiful look and an amazing body of work and is a huge fitness freak as well. She knows what it takes to keep her body in lithe and lissome shape, and works hard to keep it looking that way. Here are a few Ankitha looks that will take your breath away with the sheer beauty on display.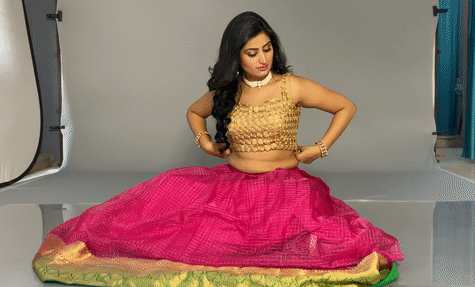 Ahead, we sit down with this intelligent mind and talk about fashion, her big film roles, and feeling secure on set. Read on, I think you'll enjoy it.
Do you follow fashion trends? How do you put together an outfit in the morning?
I would say I do not follow fashion trends. I just follow whatever I'm feeling. I mean, I'm a rather emotional dresser, and I go by what I need to fulfil for the day. If I'm feeling rebellious, if I'm feeling sexy, if I'm feeling floral, that's kind of what I follow. It's very creative, and sometimes I think following trends doesn't feel creative to me because it dictates what you should wear.
What did your parents think of you wanting to become an actress?
I was really lucky that my parents fostered that creative part of me, and just followed my lead essentially. My mom to this day will be like, 'You need to learn a trade'. But she also really honoured my creative expression which was acting.
"My parents just let me grow my wings and do my thing."
How did living in Karnataka and Hyderabad influence your personality and passions?
I just love Hyderabad so much and the stimulation that it provides for my creativity. I think different things can provide stimulation. I also get a different kind of stimulation when I'm out in the country, and the forest, or by the sea. It's a different inspiration. But in Hyderabad, I've always felt like I could express myself fully. Growing up, I was very creative with my clothing choices. Hyderabad allowed me to lean into that side of myself. I wonder if I could have leaned into that side as much had I not been living in Hyderabad. I felt like I wasn't judged in that city.
How did you get into acting? And what drew you to the craft?
I started school. I was part of the class play and I loved it. I just landed there, honestly by accident. I ended up loving the experience so much. I kept doing that program through middle school and high school, pursuing theatre.
We hear you have upcoming acting projects. What are you most excited about?
It was super exciting! I can't talk too much about it until it comes out, so you'll just have to wait and see.
Ankitha's style is always on point. She always manages to stun her fans with a variety of diverse looks, be it on the everyday look. Her versatile looks make everyone's hearts melt. She has also done an excellent job with her portrayal of a traditional girl in the shoots. Back then, viewers loved her traditional look and sweet Indian girl characterization in the hit shoot.
And even now, when Ankitha dons the traditional look for an article shoot, Dress Designed by Akhila Sritalam she looks drop-dead gorgeous in the beautiful ethnic outfits she chooses to wear.
Her traditional looks are so eye-catching that one can't help but ogle them again and again.
Mr Sangram has made this magazine something to be proud of what we kept expecting. He is not only an Author, for Lakkars Magazine he is the South Zone Head of India and Chief Editor of Lakkars Magazine E-Book.